Here are a few sequels / continuations of series that I'm looking forward to that come out in February!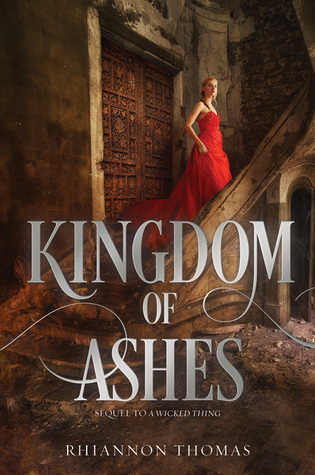 Kingdom of Ashes by Rhiannon Thomas
I really enjoyed the first book in this series,
A Wicked Thing
, which is a retelling of one of my favourite fairy tales, Sleeping Beauty. The book took some twists I didn't see coming and I'm interested to see where book two takes the story!
Asleep for a hundred years, awoken by a kiss, Aurora's life was supposed to be a fairy tale. But since discovering that loyalty to the crown and loyalty to her country are two very different things, Aurora knows she can only dream of happily ever after. Once the enchanted princess, saviour of her people, she is now branded a traitor.
Aurora is determined to free her home from the king's tyrannical rule, even if it means traveling across the sea to the kingdom of the handsome and devious Prince Finnegan - someone who seems to know far more about her magic than he should. However, Finnegan's kingdom has perils of its own, and any help he gives Aurora will come at a price.
As Aurora and Finnegan work together to harness her power - something so fiery and dangerous that is as likely to destroy those close to Aurora as is it to save them - she begins to unravel the mysteries surround the curse that was placed on her over a century before...and uncover the truth about the destiny she was always meant to fulfill.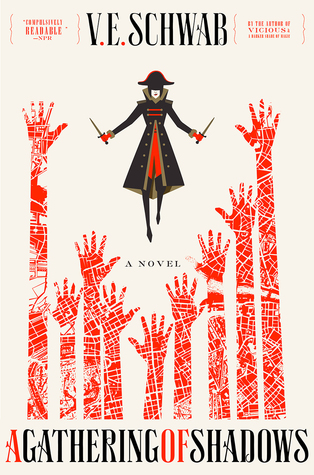 A Gathering of Shadows by V.E. Schwab
A Darker Shade of Magic
was such fun and Delilah Bard was one of my favourite badass lady characters I read last year. So excited for book two!
Four months have passed since the shadow stone fell into Kell's possession. Four months since his path crossed with Deliah Bard. Four months since Rhy was wounded and the Dane twins fell, and the stone was cast with Holland's dying body through the rift, and into Black London.
In many ways, things have almost returned to normal, though Rhy is more sober, and Kell is now plagued by his guilt. Restless, and having given up smuggling, Kell is visited by dreams of ominous magical events, waking only to think of Lila, who disappeared from the docks like she always meant to do. As Red London finalizes preparations for the Element Games - an extravagant international completion of magic, meant to entertain and keep healthy the ties between neighbouring countries - a certain pirate ship draws closer, carrying old friends back into port.
But while Red London is caught up in the pageantry and thrills of the Games, another London is coming back to life, and those who were thought to be forever gone have returned. After all, a shadow that was gone in the night reappears in the morning, and so it seems Black London has risen again - meaning that another London must fall.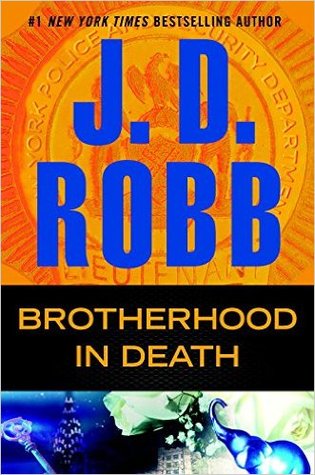 Brotherhood in Death by J.D. Robb
J.D. Robb's 'In Death' series is one of my favourite mystery series. I always look forward to a new adventure with Eve Dallas and Roarke!
Dennis Mira just had two unpleasant surprises. First he learned that his cousin Edward was secretly meeting with a real estate agent about their late grandfather's magnificent West Village brownstone, despite the promise they both made to keep it in the family. Then, when he went to the house to confront Edward about it, he got a blunt object to the back of the head.
Luckily Dennis is married to Charlotte Mira, the NYPSD's top profiler and a good friend of Lieutenant Eve Dallas. When the two arrive on the scene, he explains that the last thing he saw was Edward in a chair, bruised and bloody. When he came to, his cousin was gone. With the mess cleaned up the security disks removed, there's nothing left behind but a few traces for forensics to analyze.
As a former lawyer, judge, and senator, Edward Mira mingled with the elite and crossed paths with criminals, making enemies on a regular basis. Like so many politicians, he also made some very close friends behind closed - and locked - doors. But a badge and a billionaire husband can get you into places others can't go, and Eve intends to shine some light on the dirty deals and dark motives behind the disappearance of a powerful man, the family discord over a multimillion-dollar piece of real estate...and a new case that no one saw coming.