There are so many great books coming out in February that two posts were required! This post features a debut that's been getting lots of great buzz, plus a new novel by one of my favourite 9-12 authors!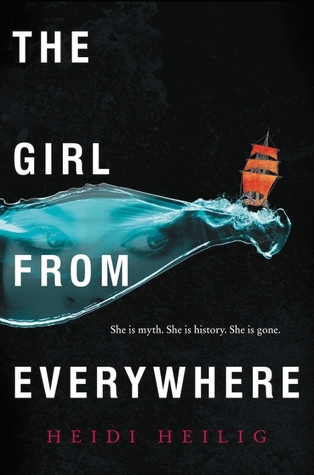 The Girl From Everywhere by Heidi Heilig
Time Travel, Pirates, and Hawaii. Put all that together with a snazzy cover and you've already hooked me. Really looking forward to this debut YA novel and seeing if it lives up to all the buzz it's been getting!
Sixteen-year old Nix Song is a time-traveller. She, her father and their crew of time refugees travel the world aboard The Temptation, a glorious pirate ship stuffed with trees both typical and mythical. Old maps allow Nix and her father to navigate not just to distant lands, but distant times - although a map will only take you somewhere once. And Nix's father is only interested none time, and one place: Honolulu 1868. A time before Nix was born, and her mother was alive. Something that puts Nix's existence rather dangerously in question...
Nix has grown used to her father's obsession, but only because she's convinced it can't work. But then a map falls into her father's lap that changes everything. And when Nix refuses to help, her father threatens to maroon Kashmir, her only friend (and perhaps, only love) in a time where Nix will never be able to find him. And if Nix has leaned one thing, it's that losing the person you love is a torment that no one can withstand. Nix must work out what she wants, who she is, and where she really belongs before time runs out on her forever.
The Key to Extraordinary by Natalie Lloyd
Natalie Lloyd is one of my favourite 9-12 writers. Her debut novel,
A Snicker of Magic
, knocked my socks off with its beautiful writing, quirky characters, and heart. I'm so excited to see what she's come up with next!
Everyone in Emma's family is special. Her ancestors include Revolutionary War spies, brilliant scientists, and famous musicians - every single one of which learned of their extraordinary destiny through a dream.
For Emma, her own dream can't come soon enough. Right before her mother died, Emma promised that she'd do whatever it took to fulfill her destiny, and she doesn't want to let her mother down.
But when Emma's dream finally arrives, it points her towards an impossible task - finding a legendary treasure hidden in her town's cemetery. If Emma fails, she'll let down generations of extraordinary ancestors...including her own mother. But how can she find something that's been missing for centuries and might be protected by a mysterious singing ghost?